News
Posted by Leanne Ivanoff on
Half Square Triangles are one of the most common quilt blocks in patchwork, this is for many reasons. They can be arranged in multiple ways to achieve very different quilts from simple to complex. Easy block for beginners. They can be made a little bigger and trimmed to the size you need. In this post I am sharing the formulas to accompany the Facebook  LIVE video which you can see on the Sew Fab Facebook page. Unfinished size = the size of the HST before it is joined into a quilt or block eg a 4" HST finished will be...
Posted by Leanne Ivanoff on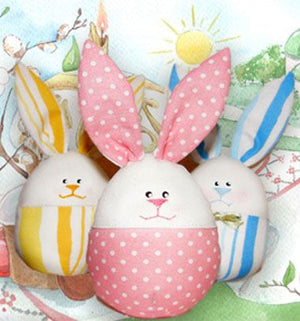 I came across this little bunny whilst looking for some ideas for an Easter display for our shop window - It was written in Russian so using the pictures and changing a few of the techniques I have created my own version of this little cutie. Perfect for little kids and really very easy to make so why not make a fluffle (a cool word for a group) of bunnies. So lets gather our supplies; All measurements are height x width 3.5" x 13" piece of cream or white linen for the head. 4.5" x 13" piece of floral or stripe...
Posted by Leanne Ivanoff on
  With so many gorgeous fabrics in Sue Daley's new range Bittersweet my mind was in a total spin with ideas for all the wonderful things I could make, from gorgeous little dresses and skirts to some really cute and funky toiletry bags. As my mother is having a birthday soon and after much debate (in my mind) I decided on The Filigree Double Zip Pouch by Sara Lawson of Sew Sweetness. This pattern makes a great gift and would look perfect in Bittersweet. It also gave me the opportunity to try out one of our other new products Flex Foam.   I was so spoilt for...
Posted by Leanne Ivanoff on
I was fortunate enough to be invited to showcase my shop at the Leeton Pieces n Patches quilt show on the weekend just gone.  The exhibit showed approximately 40 quilts all made by the ladies in this group featuring skill levels from beginners to advanced, all displayed with immense pride.   Wow what a great event it was .. many hours of work has gone into these beautiful quilts, not to mention the preparation for the event itself. Unfortunately I can't show photos of the quilts as most shows don't allow photo taking.   Do you have a local quilt show coming...
Posted by Leanne Ivanoff on
  I asked myself today - Why would a fabric shop owner buy fabric from an Op Shop? The answer to this question I thought would make a great first blog topic. So the answer is why not!! Sometimes you can find the best vintage fabric pieces or wool pieces just right to add to those wonderful new fabrics you have, or to use in your applique designs. Take what I bought today, yes I have some great vintage inspired ranges in the shop but nothing beats these two fantastic pieces I picked up for the bargain price of $6...