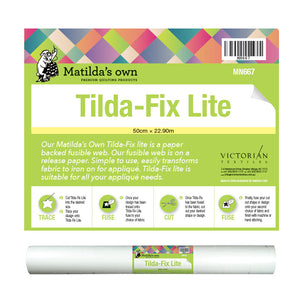 Tilda Fix Lite - Matilda's Own
Equivalent to Vliesofix, equivalent to Applifix

Matilda's Own Tilda Fix Lite is a paper backed fusible web on a release paper.
45cm wide - sold by the metre
Simple to use, transforms fabric to iron on for applique.
Trace, fuse, cut and fuse.
Finish with machine or hand stitching.
Each Unit is equivalent to 1 metre.