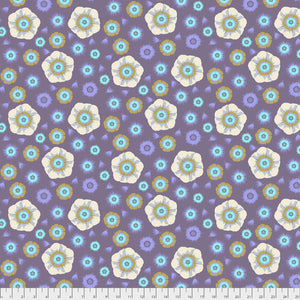 English Summer PWAM002 Whisp
Conservatory Fabric
When I think of England, I will think of flowers- especially after a beautiful Summer stay there last year.  Most notable in my journey was the chance to inhabit a small 13th century Oxfordshire cottage that sat on the most beautiful, imperfect, and blossoming garden.  Most of the florals in my English Summer collection were inspired by my exploring those grounds as well as my walks around London and Oxford.   The mix of prints is meant to share the beauty of those naturalistic florals along with the ethnic and architectural inspirations that convey the special and unique place that is England.  The scale and direction of the prints is perfect for fussy cutting quilts and creating beautiful garments and accessories and the palettes can inspire diverse directions towards modern or traditional quilting.
100% quilting cotton, 110cm wide
Sold in increments of 25cm, multiple units will be cut as one continuous piece eg. 2 units will be cut as 50cm.
Cut across the width of the fabric unless fat quarter stated in comments box at checkout.